Walking trails
Note: Please be aware that links on this page take you to third party websites.
Looking for a different place to walk?
You can experience the beauty, tranquility and wide range of wildlife for yourself in a visit to the Marches Mosses by following one of four walking trails around the mosses:
The Green Trail
Follow the trail from near Morris' Bridge car park on a 1.5 mile circular route.  On current maps, this trail is indicated in green. A number of viewfinders are to be found along the green mosses trail, including one at the former scrapyard. Look through these to discover more about the history of the Mosses, its wildlife and myths, along with some great outlooks over the mosses. As you walk, pay attention for curlews, lapwings and other birds flying overhead. You can find The Green Trail in the Fenn's and Whixall Visitor leaflet here.
Fenn's and Whixall Mosses History Trail
Learn about the history of the Mosses – the peat cutting, by hand and commercially, how the peatland was used in both World Wars, and even about the bodies in the bog.
The Natural England brochure that you can use to follow the History Trail is here.

Peat cutters' pattens (overshoes to prevent sinking into the peat)
Bettisfield Moss Trail
This 2km (1 ½ miles) trail takes about an hour to walk. You'll spot a variety of plants, many of which thrive only in the peatland conditions of the Mosses and you'll likely see birds overhead and, if you look closely, butterflies, beetles and other invertebrates that live on Mossses.
You can find the details of the trail here:  Bettisfield Moss Trail.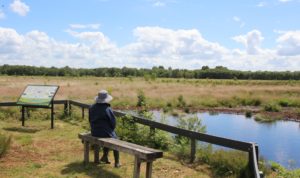 Lookout over Bettisfield Mosses
The Mosses Trail
At 3.6km, the longest of the Mosses trails makes a circuit through Whixall Moss, passing close to Fenn's Old Works, a listed monument. It's a great place to look for butterflies and other wildlife, or just take in the wide open sky above you.
The Fenn's and Whixall Visitor leaflet is here.

Fenn's Old Works Detail     Credit: Alexander Sleigh
Bring your wellies and please keep your dog on a lead
The trails are well signposted and level and easy to walk. They're often wet, so be sure to bring your wellies or boots. You're welcome to bring your dog along for a walk, but you'll need to keep Fido on a lead, as there are ground-nesting birds throughout the Mosses, as well as some water hazards. Please take your litter – and any dog mess – home with you.
Please read these posters before you begin you walk on the Mosses:
Bringing your dog to the Mosses – English and Welsh
Adders Living on Marches Mosses
Birds Breeding on Marches Mosses
They're posted in the car parks as well.
We hope you enjoy your visit to the Marches Mosses!