Visiting the Mosses
Experience the Mystery and Beauty of the Mosses
The Marches Mosses is a magical place, an unforgettable day out for the whole family, a way to reconnect with nature. Walk along the shady wooded paths into the Moss, emerging into the open expanse of the peatland. Experience the tranquility and quiet that is so difficult to find in today's bustling urban life.
Look up at the big sky, unusual an area surrounded by towns and cities.
Now look at the ground under your feet – restored peatland that bounces as you walk on it.
Created more than 10,000 years ago as the glaciers that covered much of Britain receded, Marches Mosses is one of the largest raised peat bogs in Britain. The Mosses are one of the rarest habitats on earth and an enormous carbon store, holding more carbon acre for acre than forest does. It's a haven for plants and wildlife that thrive in the acidic peat. Many of these are seen in very few other places on earth.
The Mosses was badly damaged over hundreds of years as peat was cut for fuel and parts of the Moss drained for commercial peat cutting. Beginning in 2012, Shropshire Wildlife Trust, Natural England and Natural Resources Wales have been working to restore the 2,500 acres of the Mosses to healthy, functioning eco-systems again.
In 2018, the Morris Bridge Fields were added to the Marches Mosses landscape.  Across the Morris' Bridge over the Llangollen Canal, they are a wonderful site for watching a wide range of birds.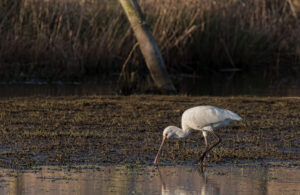 Spoonbill at Morris' Bridge Fields Credit: Stephen Barlow
You can arrive by car, canal boat, cycle or on foot.  There are car parks at the Morris' Bridge and several other entrances to the Mosses, or your can moor your canal boat near Morris' Bridge and walk to the Mosses, or you can walk from the nearby Whixall Marina. Whether you are interested in wildlife, history, taking photographs, painting, or simply want to walk in a peaceful area, there is something for you at Marches Mosses.
Click on the links below for suggestions based on your interests.
Click here to view a map of the Mosses area, with parking information and points of interest.