Charles Sinker Fields Bird Hide officially opened
July 14, 2022
On Thursday 14th of July, the Charles Sinker Fields bird hide was officially opened as part of Shropshire Wildlife Trust's 60th anniversary celebrations. This latest of a number of facilities installed on the mosses was funded by the EU LIFE Programme and The National Lottery Heritage Fund, as well as a generous donation from the Shirra family.
The event began at the old scrapyard with a chance to meet others involved in the bird hide installation and visit several stalls relating to the project. There was information on the scrapyard restoration, a chance to watch the project's virtual reality film and a "bog box" to show people what the Mosses look like up close, a representative from the Trust's showcase Feed the Birds Project and art from the Mosses and Marshes Project. The group then moved to the bird hide for the official opening speeches and ribbon cutting. The ribbon was cut by Graham Walker of the Shropshire Ornithological Society and Sarah Jane Lamb, an adviser and advocate with lived experience of disability. To quote Richard Grindle, CEO of Shropshire Wildlife Trust, "The aim was to create a facility for birdwatching, but also to create something that increases access for people with disabilities".
Anna Martin, Marches Mosses Events Officer, had this to say about the opening: "It was great to celebrate this fantastic new bird hide. There have been so many people involved in making it possible and it was wonderful to bring them together to share the end results. This bird hide is for everyone. We are grateful to the birdwatching community for their insight about the area and their support. We are also thankful to the support of people with lived experience of disability and disability advocates who advised us on making the hide wheelchair accessible and more inclusive. It is great to have a new nature reserve which creates a haven for wildlife, whilst also giving people a chance to connect with the natural world"
The Hide was built by the talented Helen Shackleton and Lloyd Turner https://www.wildmurals.co.uk . Craig Bennett, CEO of The Wildlife Trusts was heard saying "I have never seen such a beautiful looking bird hide".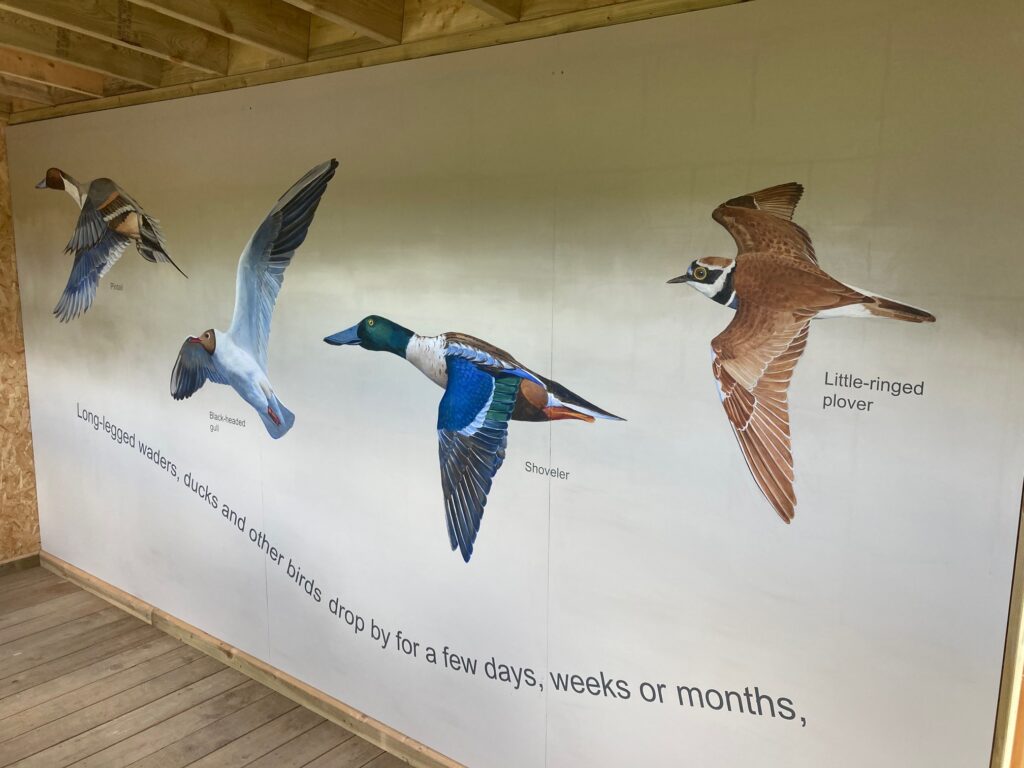 The nature reserve that the hide looks out on is named in honour of Charles Sinker, a passionate conservationist who recognised the unique nature of the Meres and Mosses and campaigned for their protection. Charles Sinker Fields is one of the best sites for wildfowl and wetland birds in North Shropshire. The land is important edge habitat for Whixall Moss, called lagg. This type of marginal land has been eliminated from almost all British raised bogs, making these works of considerable importance. From the hide you can see curlew, lapwings, starling murmurations and many more dabblers and waders.
For its 60th Anniversary, Shropshire Wildlife Trust have been hosting several other events throughout July, including a recent guided walk and picnic on Earl's Hill, which was their first nature reserve. There are also several more events at their visitor centre in Shrewsbury, and a special limited edition 60th Anniversary members welcome pack for members joining in July 2022. More events can be found on their website: https://www.shropshirewildlifetrust.org.uk/SWT-at-60