The Mosses are a Great Place for Canal Boaters to Visit
Note: Please be aware that links on this page take you to third party websites.
Canal boating is a great way to staycation in the UK. If you're out on the Llangollen Canal on your boat, the Marches Mosses are a great place to stop and stretch your legs. The canal, dug through peat in the early 1800s, passes the precious peatland that is the Mosses – Fenn's, Whixall and Bettisfield Mosses, Wem Moss and Cadney Moss.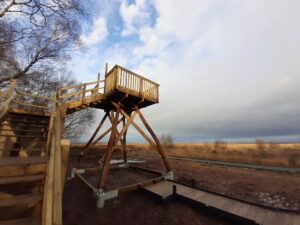 From the mooring near Morris' Bridge, it's a short walk along the Moss-side towpath to the Mammoth Viewing Tower that overlooks the Mosses. The tower is five metres high, providing fantastic views over the expanse of this rare habitat. Enjoy the open skies above – who knows? You might spot a curlew, or even a hobby, overhead. So, make time to stop and experience the magic and mystery of the Mosses before you resume your canal boat adventure.
There are several companies that hire canal boats for holidays on the Llangollen Canal. Here is a link to one below:
Pea Green Boats, based at Whixall Marina