Points of Interest
There are lots of things to see and do on the Mosses and in the surrounding area.
Charles Sinker's Fields
In 2018, Charles Sinker's Fields were added to the Marches Mosses landscape.  Across the Morris' Bridge over the Llangollen Canal, they are a wonderful site for watching a wide range of birds. In fact, the Shropshire Ornitholocal Society rates these fields as one of the Top 3 sites for bird watching in the county. Shropshire Wildlife Trust has installed a wheelchair accessible bird hide on the edge of the fields that provides shelter for birdwatchers as well as interpretative information.
The Mammoth Tower Viewing Platform
From Morris' Bridge, it's a short walk along the Llanglollen Canal towpath to the Mammoth Tower viewing platform.  Overlooking Whixall Moss, you can get a sense of the vast area of the Marches Mosses as well as see if you can spot a raft spider skimming the surface of the pond at the end of the platform.  Bring your lunch for a picnic in this quiet, tranquil setting. Please do remember to take all your litter with you when you leave – it's important anywhere, but even more so here where litter can have a serious impact on the wildlife and the structure of the peat itself. You can learn more about the Mammoth Tower here:
Fenn's Old Works
Llangollen Canal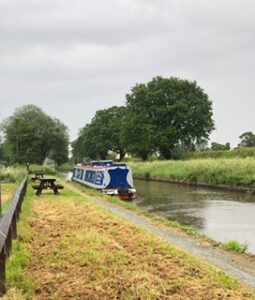 Llangollen Canal at Roundthorn Bridge Mooring
The Llangollen Canal runs past Whixall Moss on its route from Whitchurch across the Pontcysyllte Aqueducut to Llangollen. Are you a canal boater?  You can moor up at Sinker's Fields and stretch your legs with a walk along the towpath to the Viewing Platform that overlooks the Mosses.
While the canal appears to run along the edge of Whixall Moss, it was actually dug straight through the Moss. There are the remains of peatbog on the east side of the canal, including beneath the Sinker's Fields. You can read about the history of the canal in a post by the Inland Waterways Association here.
Canal Bridges near the Marches Mosses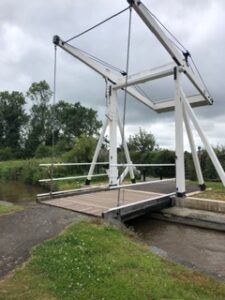 Triangle Bridge near the Marches Mosses
Whixall Marl Allotment
The Marl Allotment, or Marlot as it's often called, is a six-acre site of common land next to Whixall Moss.  Located a short walk from the Roundthorn Bridge boat mooring on the Llangollen Canal (which also has a small car park), it's worth the walk to visit the site and learn of its history.
Marl is a type of light clay soil, unlike the peat on Whixall Moss. Local people used the soil for centuries as a fertiliser.  However, until recently, the site was left to deteriorate.  Local volunteers, aided by the NNR project team, have worked to restore the site.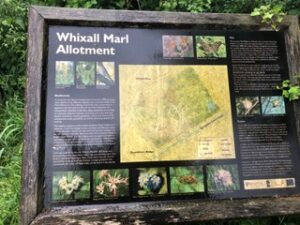 Whixall Marl Allotment – "The Marlot"