Restoring Lowland Peatland for Biodiversity & Carbon Conference
July 20, 2022
On Wednesday 20th of July, Harper Adams hosted a conference supported by the EU LIFE Programme and the National Lottery Heritage Fund. The conference was aimed at farmers, volunteers, academics and practitioners working in peatland and carbon management. The day was a great celebration of the work done throughout the BogLIFE project, and the collaboration between Natural England, Natural Resources Wales and Shropshire Wildlife Trust.
As the project draws to a close, this conference not only looked at the lessons learned and the restoration achieved, but also looked into how best to manage these habitats for the future. Through the knowledge gained from the project, it has highlighted the importance of maintaining and restoring lowland peatlands across the UK. Some such benefits discussed at the conference included the impact of carbon sequestration and the improvement of ecosystems as a result of restoration.
There were many speakers at the event, which was hosted by Dr. Julia Casperd and Dr. Simon Jeffery of Harper Adams University. Dr. Renee Kerkvliet-Hermans from the IUCN UK Peatland Programme discussed the Peatland Code; while Dr. Brown and Kate Mayne from the North Shropshire Farmers Group spoke about peatland restoration opportunities from a landowners perspective. Scott Kirby, the Future Farm Manager at Harper Adams university also discussed the barriers to regenerative agriculture, and Robert Duff, the project manager for the Marches Mosses BogLIFE project outlined the importance of peatland restoration for nature. Finally, Dr. Chris Field of the Manchester Metropolitan University and Professor Fred Worrall from the University of Durham talked about The Carbon Farm and Carbon modelling at Whixall Moss respectively.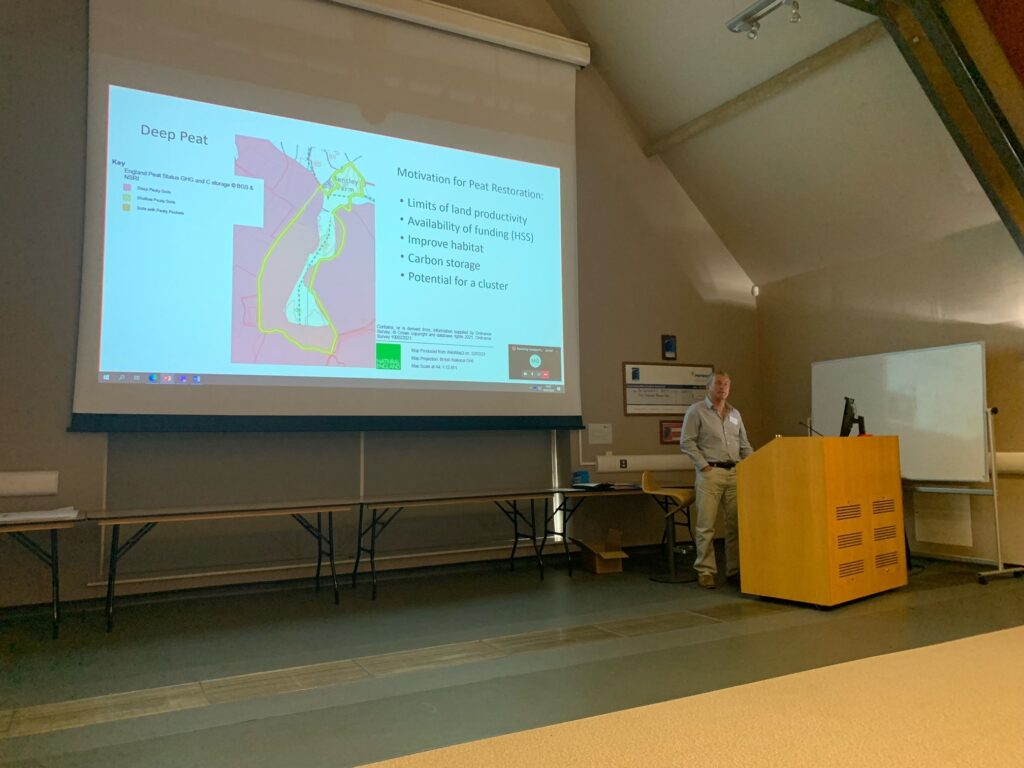 The conference was a hybrid event, which meant that these key topics could be explored both in person and online. A range of audience was present, including a number with academic and agricultural backgrounds, as well as several from carbon and conservation organisations. In the afternoon, there were various workshops, which aimed to configure the best practices for carbon storage and sequestration, and for nature and ecosystem services.
As a result of the conference, there were many barriers and challenges discussed, with several take home messages, and a sense of a further need for better collaboration between farmers, conservation organisations and the agricultural sector.