How many Wembley Stadiums would fit into the Mosses?
April 16, 2021
Note: Please be aware that links on this page take you to third party websites.
The FA Cup Semis are this weekend. Both semi-final matches will take place at Wembley Stadium: Chelsea v Manchester City on Saturday 17th and Leicester City v Southampton on Sunday 18th. What better time to give a new perspective on the size of the Marches Mosses!
Wembley Stadium has a circumference of 1km, while the Mosses have a circumference of about 17 kilometres. Let's say an average person can walk a kilometre in 15 minutes. Even stopping to look at the statue of Bobby Moore outside Wembley, it would take only 15 minutes to travel around the outside of Wembley.
On the other hand, it would take that same average person over four hours to walk all the way around the 1,000 hectares of the Mosses, even with a few stops to look at the birds, the butterflies and the big open sky.
Sadly, there isn't a track that follows the entire edge of the nature reserve, but there are a number of walking trails through parts of the Mosses that you can enjoy, before or after the FA Cup matches – or anytime you fancy a nice walk. Here are links to information about the trails on the Marches Mosses:
The Mosses Trail
Follow the trail from near Morris' Bridge car park to join the Mosses Trail. We'll be installing a number of viewfinder spots that will provide an excellent outlook over the Mosses along with information about the biodiversity, formation and restoration work on the Mosses. In the meantime, enjoy the peace and tranquility of the Mosses and watch for curlews, lapwings and other birds flying overhead. The Viewfinder Trail is part of the Mosses Trail; you can find it in the Fenn's and Whixall Visitor leaflet here.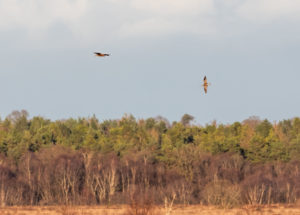 Fenn's and Whixall Mosses History Trail
Learn about the history of the Mosses – the peat cutting, by hand and commercially, how the peatland was used in both World Wars, and even about the bodies in the bog.
The Natural England brochure that you can use to follow the History Trail is here.

Peat cutters' pattens (overshoes to prevent sinking into the peat)
Bettisfield Moss Trail
This 2km (1 ½ miles) trail takes about an hour to walk. You'll spot a variety of plants, many of which thrive only in the peatland conditions of the Mosses and you'll likely see birds overhead and, if you look closely, butterflies, beetles and other invertebrates that live on Mosses.
You can find the details of the trail here: Bettisfield Moss Trail.