So Big the FA Cup Would Fit into the Mosses?
March 19, 2021
The Marches Mosses are important peatland that cover 1,000 hectares of north Shropshire and northeast Wales. What does that have to do with football?
Well, with the FA Cup Quarterfinals coming up, there just might be a link: Around 1,400 football pitches would fit into those 1,000 hectares of the Mosses. That would be nearly two pitches for each of the 736 English football clubs that competed in the FA Cup this season.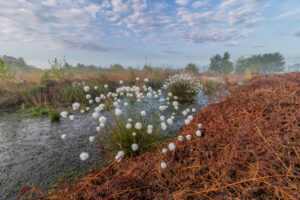 While the pitches would fit onto the Mosses, the players might find the surface a bit difficult to play on as healthy peat is squelchy underfoot. That healthy peat has some strong benefits – it stores carbon, helping in the fight against climate change; it provides a habitat for wildlife that depend on its acidic nature to thrive; and it captures rainwater, helping to slow the flow into rivers downstream – thus keeping those real football pitches that little bit drier for the players.
So, whether you're cheering on one of the last eight teams in the FA Cup this weekend or disappointed that your club isn't among them, you can stretch your legs and get some fresh air with a walk on the variety of marked trails that run through the 1,400 football pitches that make up the Marches Mosses.