2020/2021 Restoring the Marches Mosses Traineeship Placement Programme Continues
November 18, 2020
The Marches Mosses Traineeship Programme continues for 2020-21 with the appointment of Nathan Brake. Nathan started on 2 November, taking over from Christian Pearce, who moves on after successfully completing his placement.
The traineeship is a great opportunity for people looking for experience in a wide range of conservation work, as Steve Dobbins, Marches Mosses Reserve Manager, explains: "The traineeship role covers many aspects of practical conservation work, from carrying out monitoring work along hydrology transects and assisting with our nest box scheme, to carrying out tree felling works that enable our bunding work on the Mosses to continue. Our trainees also help to supervise the volunteers on the task days we run.
"Nathan will benefit from the many training courses we provide for our trainees in areas such as the safe use of chainsaws and brush cutters, pesticides, 4×4 operation and All-terrain Vehicle licences."
Christian Pearce, who had a very long run in the trainee role due to the three-month COVID-19 lockdown in the Spring 2020, described his experience this way: "I was looking for practical work to complement the experience and training I have. The role was perfect for me – a variety of work and training. This included working across the whole team, for example with Sophie, the Monitoring Officer, and Andrew and Paul, the Reserve Wardens. I enjoyed leading the volunteer task days and helping with public engagement events and meetings. Each day was different, challenging and interesting.
"The traineeship gave me practical site management experience. This is similar to what I've done at the Marches Mosses and is what I want to concentrate on when I look for future roles."
Steve Dobbins continues: "Christian did a great job. He missed the months during lockdown but picked up right where he left off when we could get back on site. He's been involved in a variety of areas across the project. He helped with planning and marking out boundaries for bunding and tree work contracts, fence removal ahead of the project to divert the Bronington Manor Drain, and helping to survey and mark out locations of protected species on the Mosses. Christian is passionate about conservation and we're hopeful his experience on the Marches Mosses restoration project will stand him in good stead for his future.
"Now we're planning to give Nathan the same wide range of activities and training as we gave Chris. We chose Nathan out of the more than 100 applications we received. He is currently completing a Foundation Degree in Countryside Resource Management at Reaseheath College and has been volunteering with us for the past year.
"The shortlisted candidates were all very impressive, but Nathan stood out with his experience, preparation for the interview, and his keen attitude to learning. We know he's a team player, practically minded and able to get on with people."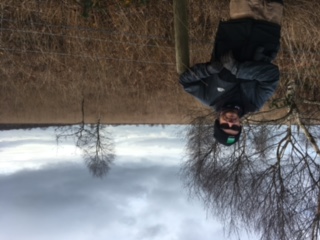 Nathan comments on his new role on the Marches Mosses: "I'm really looking forward to getting stuck in with my traineeship while continuing my studies. My second-year project at Reaseheath will be to research different kinds of peatland management. I'm hoping I'll be able to use my research to benefit the project, while gaining a wide range of experience here on the Mosses that will tie into my course. I believe it will give me a better footing in the future to have both practical conservation work and a college degree."
---